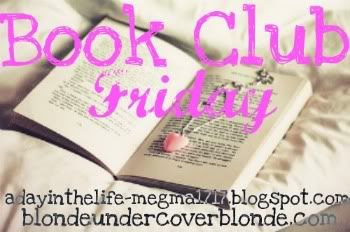 Happy July! I'm linking up again this week for Book Club Friday!
This week I finished
Remember Me?
by Sophie Kinsella.
I was at the library looking for something light and fun to read while I was working at the pool, and this one looked cute.
Here's the synopsis from Goodreads:
When twenty-eight-year-old Lexi Smart wakes up in a London hospital, she's in for a big surprise. Her teeth are perfect. Her body is toned. Her handbag is Vuitton. Having survived a car accident—in a Mercedes no less—Lexi has lost a big chunk of her memory, three years to be exact, and she's about to find out just how much things have changed.

Somehow Lexi went from a twenty-five-year-old working girl to a corporate big shot with a sleek new loft, a personal assistant, a carb-free diet, and a set of glamorous new friends. And who is this gorgeous husband—who also happens to be a multimillionaire? With her mind still stuck three years in reverse, Lexi greets this brave new world determined to be the person she…well, seems to be. That is, until an adorably disheveled architect drops the biggest bombshell of all.

Suddenly Lexi is scrambling to catch her balance. Her new life, it turns out, comes complete with secrets, schemes, and intrigue. How on earth did all this happen? Will she ever remember? And what will happen when she does?

With the same wicked humor and delicious charm that have won her millions of devoted fans, Sophie Kinsella, author of the #1 New York Times bestseller Shopaholic & Baby, returns with an irresistible new novel and a fresh new heroine who finds herself in a life-changing and utterly hilarious predicament…
I never really got in to the Shopaholic books, so I didn't know if I'd like this one or not. It was pretty cute, though. It won't be topping my favorite books list or anything, but I did enjoy it. It was definitely a good "sit by the pool and relax" kinda book :)

Now I'm trying to get through all the Harry Potter books...I want to read them all and then go see the last movie in the theater. I realize it comes out in two weeks, but Lee challenged me and I obviously accepted. I'm on the second book now and plan to have at least the third one finished by the end of the weekend!